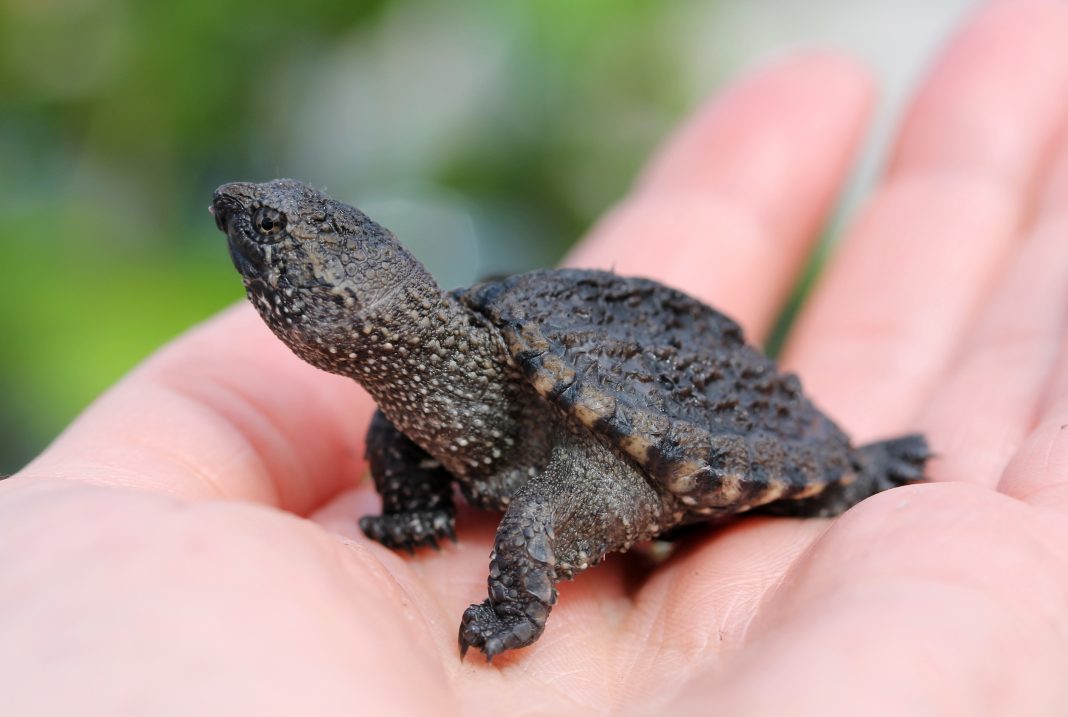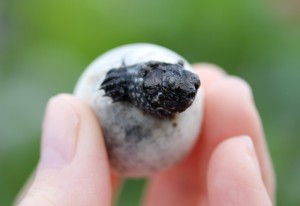 On Aug 19th, 138 snapping turtle hatchlings were released into the Maitland River in honor of Wingham biology teacher and nature lover, Julie Sawchuk. It was almost a year ago that Julie found an injured female snapping turtle hit by a car. She stepped into action, secured the turtle in a ventilated container, and called me. The turtle was paralyzed mid body down and unfortunately had to be euthanized. Luckily, her back end was unscathed and we were able to save the eggs inside her. Two months later, 22 bouncing baby turtles hatched out and were released into the wild by Julie and her biology class. Who would have imagined that one year later Julie would suffer the same fate as that female turtle? On July 29th, Julie was hit from behind by a car while cycling a training run for a triathlon. Like the turtle, she was also left paralyzed from the chest down.
A split second…..a moment in time…..lives are forever changed.
Having only lived in Huron County for a year and a half, I was touched by the way the community came together to support a fallen member, like watching a herd of elephants form a protective circle around an injured calf. I was drawn to Julie from the moment I met her, she has a contagious energy  and a wide-eyed wonder of the natural world we all should enjoy. She is the teacher I always wished I had! I didn't realize how well revered Julie was in her community until her accident. Only after talking to hundreds of people from the community did I realize what an impact Julie has had on people's lives. I heard stories, words of support, and had people handing me donation money on the street.
Wow.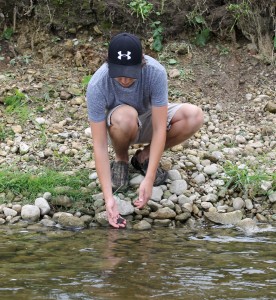 Human road casualties are well documented; however, most turtles hit by cars go unnoticed, unreported and unaided on the sides of roads worldwide. We (the Huron Stewardship Council) take the time out of our hectic schedules to respond to reports of turtles struck by cars. Many of these turtles are too badly injured to be taken to a rehabilitation center, so they are humanely euthanized and the eggs are harvested (if possible). This year we rescued 250 snapping turtle eggs- some from undesirable locations, such as on the side of the road or in the middle of a walking trail, but many eggs were from female turtles hit on the road. Of the 200 snapping turtle hatchlings this year, we released 138 in the Maitland River in honor of Julie. One of those turtles was named after her. 'Julie the turtle' was the sole survivor of a clutch (batch) of turtle eggs whose Mom had been hit by a car. Both Julie the turtle and Julie the human are survivors!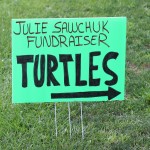 In the span of an hour and a half, we had 80-100 people attend the fundraiser and raised $800 for the Sawchuk family. We also returned a Species at Risk to local waters. The fundraiser was a tremendous success!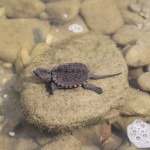 In the three weeks since the accident, Julie has been an ambassador for the 'Share the Road' program. She has been actively doing radio and television interviews and is pushing for municipalities to put in bike lanes along their roadways. Given her current situation, I reckon most people would hide from the public eye, and focus on themselves. Not Julie. She has made it a priority to help reduce the hazards other cyclists face on the road. Her attitude and actions since the accident have been exemplary.
Again, wow.
-Jory Mullen, MSc (mullenjory@gmail.com)                                              Photo credits: Jory Mullen
If you would like to donate to aid in Julie's recovery, click here
Related news stories: