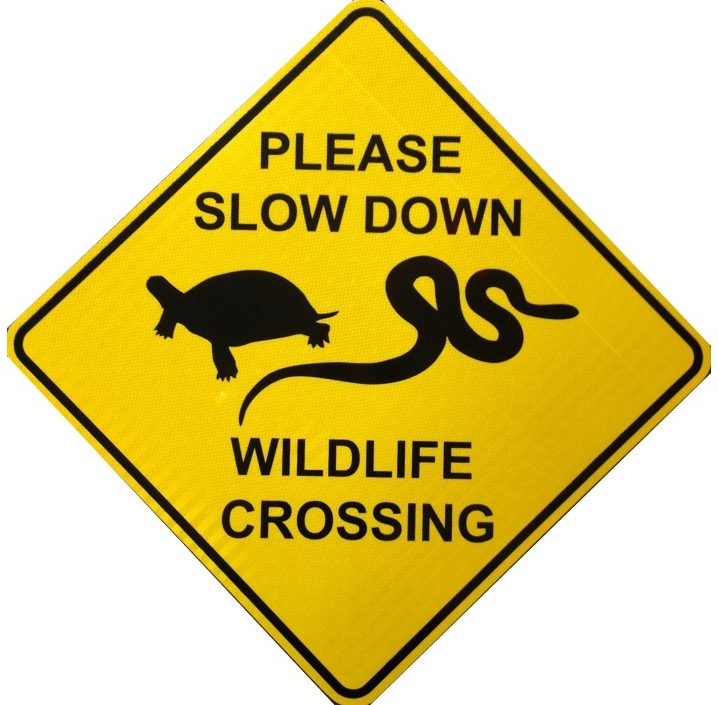 One of the HSC's many land stewardship goals is to protect wildlife by preserving natural habitat, supporting biodiversity, and increasing the connectedness of our natural areas. To help achieve this goal, we have undertaken a pilot project to erect twelve "wildlife crossing" signs within Huron County. The signs feature the silhouette of a turtle and a snake and reminds drivers to slow down and drive with caution in areas where reptiles (turtles and snakes) are known to cross the road. This is particularly true in the spring, when female turtles are crossing the road in search of a suitable area to lay their eggs.
Staff from the Huron Stewardship Council visited three Township Councils this week to present the idea of erecting the wildlife crossing in South Huron, Central Huron and Ashfield-Colborne-Wawanosh.  The specific locations were selected as these are known areas of reptile mortality in Huron County. Two provincially rare species of snakes have been run over by cars and killed at two of these locations.  Numerous turtle species have suffered the same fate.
The Huron Stewardship Council hopes that the signs will encourage drivers to slow down in these areas and be on the look-out for reptiles and other wildlife crossing the road.
This project would not have been possible without the support of the Public Works Staff at South Huron, Central Huron and Ashfield-Colborne-Wawanosh Townships. We are very grateful for the contributions that they have made towards this pilot project.
The signs will be put into the ground in fall 2015 and spring 2016. Watch for them in your area!
Cheers,
Lauren Schmuck