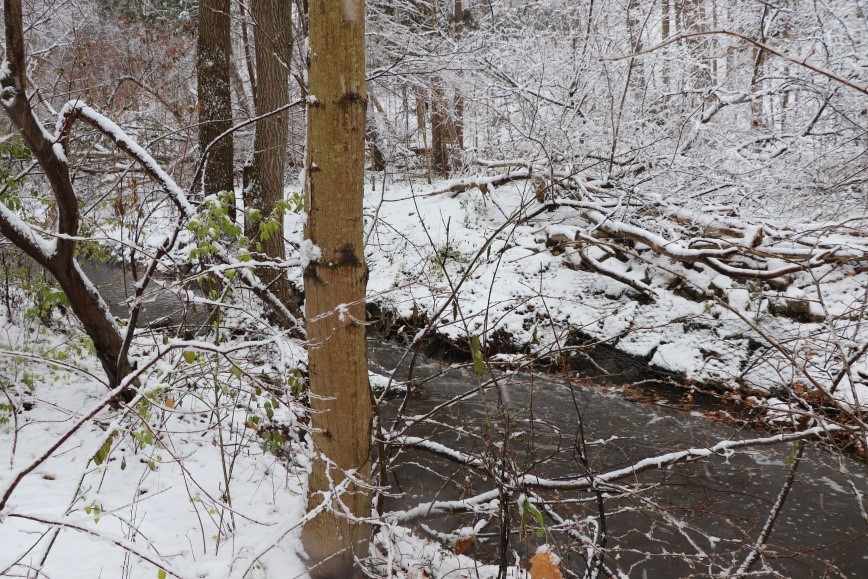 By: Chantal Lamontagne (Canadian Conservation Corps)
As winter comes, the temperature drops, and so does the amount of time many people spend outside. Although the colder temperatures may make you want to stay indoors, there are many reasons to get outside during these colder months.
Try out winter bird-watching
Humans, just like many other animals, are less active during the winter months. However, there are still some active animals, and it may be easiest to see them during this time of year. Fewer leaves on the trees and clearer views through the forests make it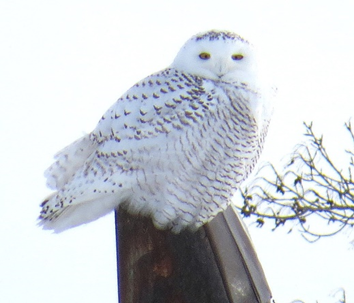 easier to spot owls and other birds that spend their winters in Huron County. Some birds, such as the Snowy owl, come south to our region during the winter months. Are you hoping to spot a Snowy owl this winter? Be sure to keep an eye out when passing open fields, and watch for them sitting on fence posts and telephone poles. Unlike most owls, Snowy owls are most active during the day. They are easiest to spot when the ground is bare and not covered in snow. Other resident birds such as chickadees, cardinals, blue jays, nuthatches, ducks, and woodpeckers, can often be seen during the winter months. Be sure to also look for Dark-eyed Juncos and Snow Buntings, as these birds are typically seen here only in the winter.
Try your hand at wildlife tracking
A light snow cover makes it easier to spot animal tracks. Try to identify them and see which animals use the area during the winter months.
Go hiking or snowshoeing
Going hiking or snowshoeing also allows you to discover new places, and get exercise to stay healthy. While outside, it is lovely to see the fields during different seasons as each offers a diverse beauty. Winter hiking allows you to see trails at a different time of year when the ground and trees are covered in snow and water is frozen. You can rent snowshoes at Morrison Dam Conservation Area for a day or entire weekend. Some of our favourite places to go for a winter hike include: Bannockburn Conservation Area, Hullett Marsh Provincial Wildlife Area, the Maitland Trail, Lobb Trail, Naftel's Creek Trail, Morrison Dam Conservation Area, or any of our County Forests. Joining a group hike (such as these ones organized by the Maitland Trail Association) can be a great way to meet new people and gain confidence while outdoors in the winter.
X-Country skiing, snowmobiling, skating and more!
When there is sufficient snow on the ground, winter outdoor activities may also include skiing, tobogganing, making a snowman or snow fort, and snowmobiling. Weather permitting, Falls Reserve Conservation Area offers groomed trails for cross-country skiing. The Lobb Trail, Naftel's Creek Trail, and County Forests are also great destinations for ungroomed cross-country skiing. Bring your x-country skis or snowshoes to the Sheppardton Tract on January 26th for a fun day exploring the recently-upgraded trails in this County Forest (groomed for x-country skiing for this one-day event). You can also explore Huron County by snowmobile with an Ontario Federation of Snowmobile Clubs (OFSC) permit, which allows access to trails throughout the County, including some  through the Hullett Provincial Wildlife Area.
When the weather is cold enough, there may also be the opportunity to go skating or play hockey outside on frozen lakes and ponds. Always ensure the ice is safe before venturing out, and have proper permission if you are skating on private property. Goderich even has outdoor ice rinks for recreational skating and hockey (check ice conditions here).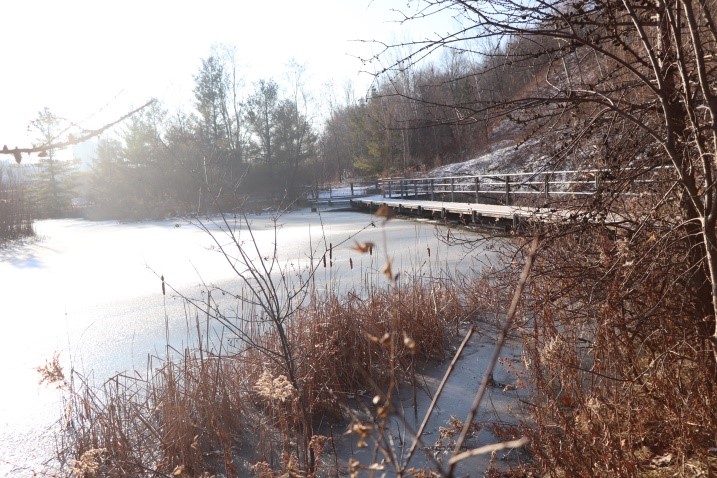 Winter camping
For those who are feeling really brave, there is also the opportunity to do some winter camping in some areas. Just a short drive away, Pinery Provincial Park and MacGregor Point Provincial Park both offer winter camping on designated sites, including some sites with roofed accommodations (reservations are usually required.) Winter camping requires some specialized equipment to ensure that you stay safe. A warm sleeping bag and tent are fundamental. For your first time out, it is a good idea to go with others who have some winter camping experience.
Tips to keep in mind….
When dressing for the weather, layering is vital as it is easier to take off layers when you are too warm, rather than warm up while wearing insufficient clothing. The best way to stay warm is by using layers made from wool as they are the best for regulating your temperature and creating a barrier to the cold. Cotton fabric can cause problems as it absorbs moisture, becoming wet and making you feel cold. It is also essential to cover areas prone to significant heat loss, such as the head, hands, feet, neck and stomach. Always make sure you bring or wear a warm hat, scarf, mittens, coat, and boots.
Winter is just like any season where there are lots of activities to do that can be enjoyable as long as you dress for the weather.
A few places to explore during the winter:
Falls Reserve Conservation Area (near Goderich)
Hullett Provincial Wildlife Area (near Clinton)
Bannockburn Conservation Area (near Varna)
Naftel's Creek Trail (near Goderich)
Morrison Dam Conservation Area (Exeter)
Winter Outdoor Events:
Maitland Trail Association Hikes, including the Sheppardton Tract Ski/Snowshoe Event – January 26, 2020 (stay tuned for more details)
Candlelit Winter Walk (Goderich) – February 7th, 2020
Chantal is a member of the Canadian Conservation Corps. The Canadian Conservation Corps (CCC) is now accepting applications from youth aged 18-30. As part of the program, participants will travel across Canada for wilderness training, enjoy conservation field experiences, and develop service projects. The program is presented by the Canadian Wildlife Federation with the support of the Government of Canada through the Canada Service Corps. For more information or to apply, visit CanadianConservationCorps.ca.