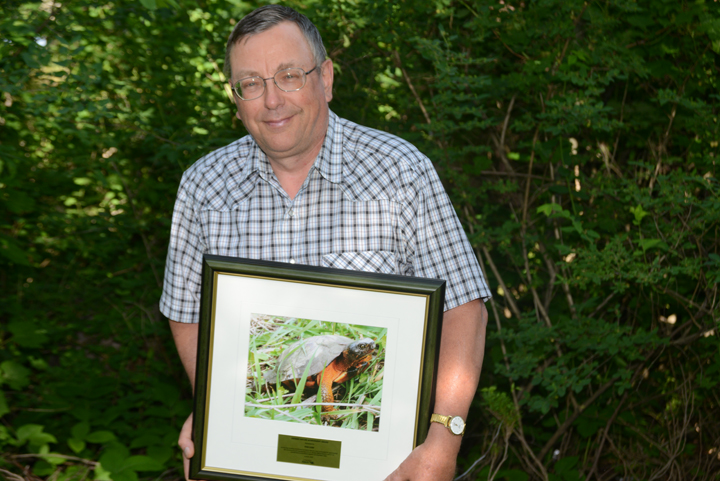 Tom Lobb recognized for leadership in the protection of nature
(Toronto, Ontario, July 3, 2014) – On June 21st, Ontario Nature, a leading conservation organization, recognized the exceptional contributions to natural habitat protection made by six individuals and two groups. The award ceremony was part of Ontario Nature's 83nd Annual General Meeting and Gathering which took place at YMCA Geneva Park, located on the shores of Lake Couchiching.
Tom Lobb, a local farmer and lifelong naturalist, received the Ontario Nature Achievement Award for his outstanding contribution to the organization.
Tom has been involved with wood turtle monitoring and protection for at least a decade, searching for and defending their nesting sites and marking their shells for population studies. He has also constructed artificial nesting pits and collected eggs for the Toronto Zoo's recovery program. As a result of Tom's efforts and those of others like him, the endangered wood turtle has experienced a population increase.
Tom has also played a vital role in surveys of the endangered queen snake in the Maitland River as well as rare plant surveys.
In addition, he is a champion of Ontario Nature's George G. Newton Nature Reserve south of Goderich, frequently organizing clean-up and trail maintenance events.
We are truly fortunate to have such a dedicated individual working to protect our wild species and wild spaces.
For more information and a photo of this award recipient, or to arrange an interview, please contact:
Colleen Cirillo
Communications Coordinator, Ontario Nature
(416) 444-8419 ext. 238
colleenc@ontarionature.org