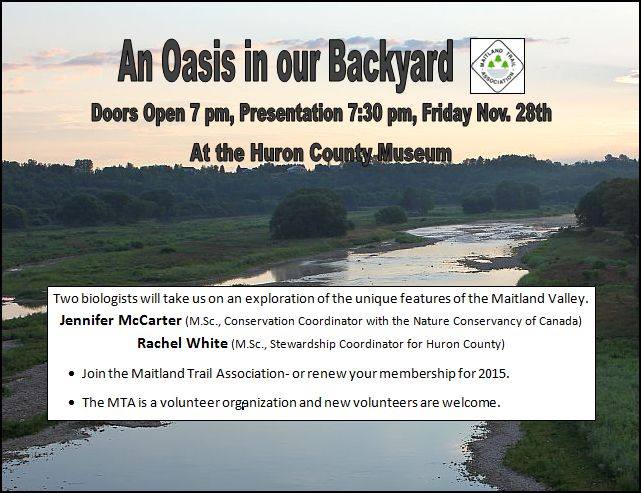 We were so pleased to speak at the latest Maitland Trail Association event.  Rachel White (Stewardship Coordinator, HSC) teamed up with Jennifer McCarter from the Nature Conservancy of Canada to talk about the wild and wonderful features of the Maitland River.  From the physical geography of the river valley, to rare arctic species, and ancient cedars along the Maitland River, the presentation generated some great discussion.
If you'd like to get more involved with the Huron Stewardship Council, we are looking for new board members!  Please contact Rachel to attend our next meeting to see what it's all about (huronstewardship@gmail.com, 519 524-8394 x 3286).  Like us on Facebook to get updates about our upcoming events.  Also, look out for more local volunteer opportunities on the NCC website.
Join the Lower Maitland Stewardship Group, and get more involved!  The LMSG hosts events along the Maitland such as guided hikes, and shoreline clean ups.  Like us on Facebook!
If you would like to participate in this year's Christmas Bird County, visit the Huron Fringe Field Naturalists' website for more details.