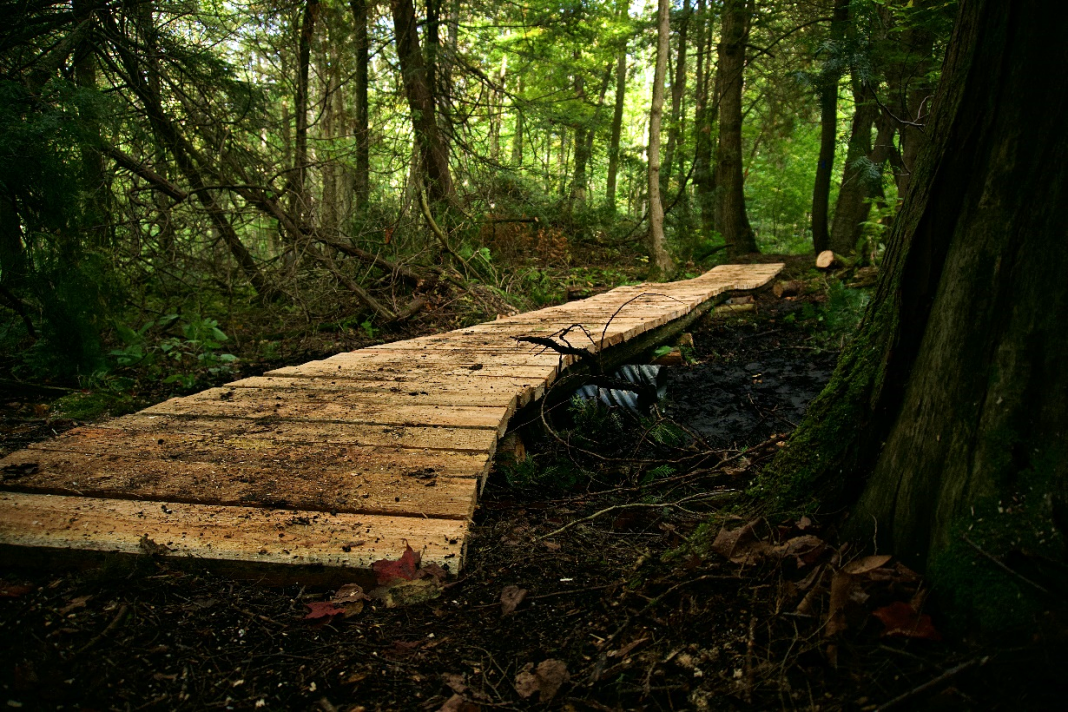 Written by: Mitch Dunn
As a member of the Canadian Conservation Corps, I had the pleasure of working a three-month internship with the Huron Stewardship Council. Working with wildlife, data entry, and building trails in the local county forests were just a few of the things I had the chance to experience. One of the forests I worked in was the Bannockburn County Forest. Bannockburn is a beautiful, swampy, and bio-diverse piece of property. I was fortunate enough to get the chance to work with Dave Pullen, County of Huron Forest Conservation Officer, and built some unique things within this new trail system.
To start off, we constructed a bridge that crossed a small stream. The bridge is constructed from European Larch, which was harvested from the county forests and milled at a local sawmill. We also used small cedar trees for the railings that were harvested from a plantation already in the forest.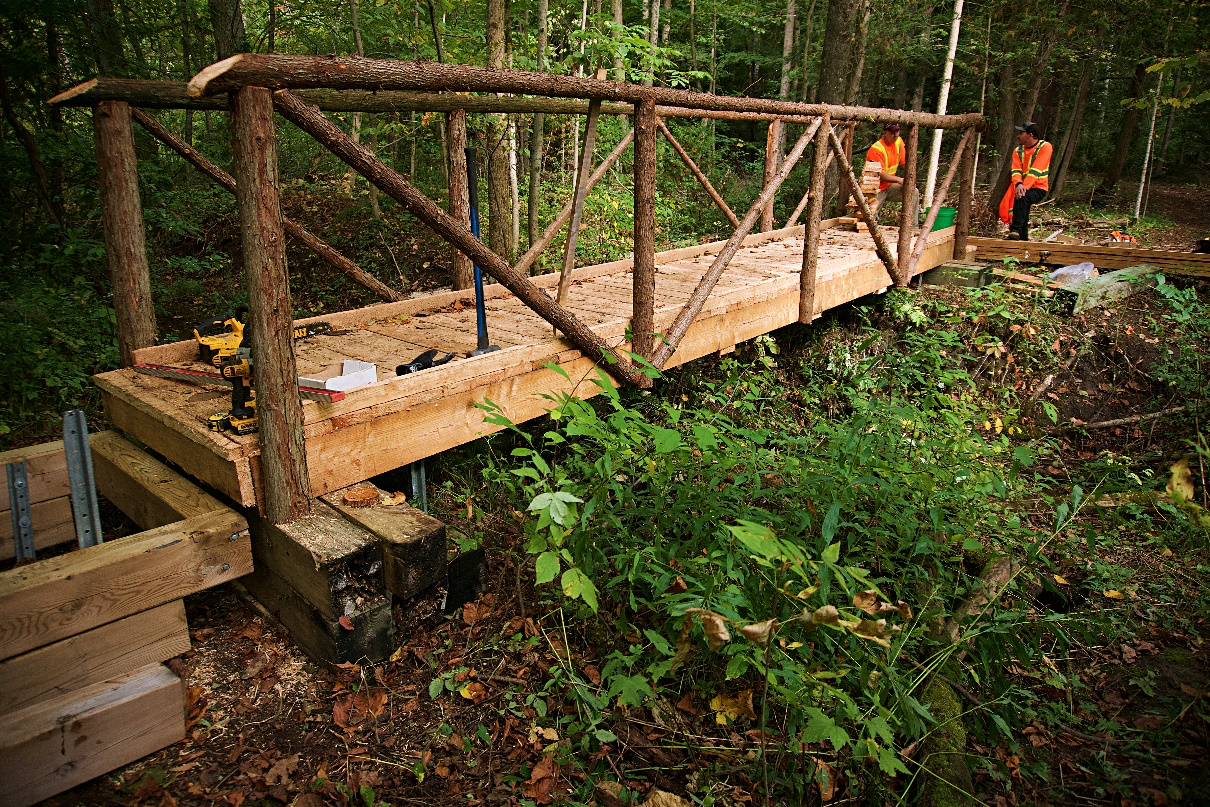 Although I was not there for the actual construction of the body of the bridge, I was there to help with the stairs. After brainstorming ideas with the crew on how to make the stairs as stable as possible, we started building.  Pounding tee posts into the ground, leveling the base of each step, and securing the planks with screws. It is one of the sturdiest, coolest, and most natural looking trail bridges I have ever seen.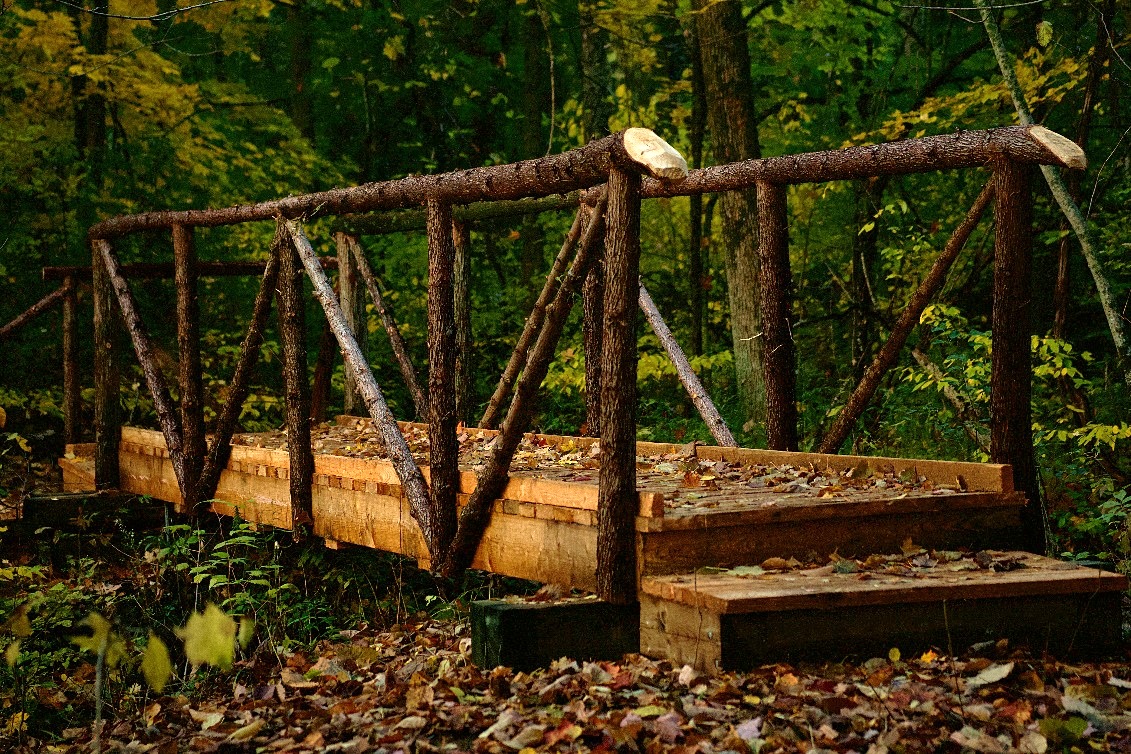 Now off to the boardwalk! This was cool…really, really, really cool.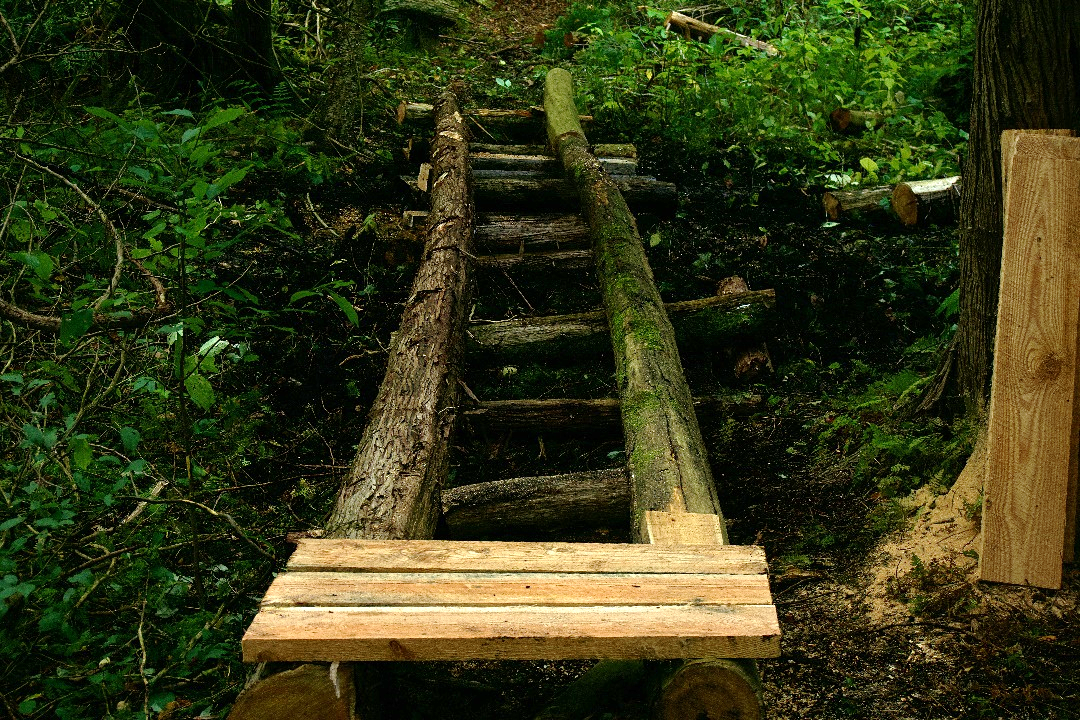 As a carpenter, I was extremely excited to do some chainsaw carpentry! Sadly, I didn't get to operate a chainsaw (probably for the best since I've never used one before), but I worked alongside an Arborist named Tim Prentice (from Huron County's Public Works Department). I had the opportunity to learn so many new things just by watching Tim work wonders with a chainsaw. After watching him drop trees so gracefully, I decided to ask Santa for a brand new chainsaw this year. In all seriousness, working with Dave and Tim really opened my mind…sometimes you don't need brand new lumber to make something beautiful.
The whole concept was mind blowing…its brilliant. Instead of going to the store to source lumber, use the lumber that's already in the forest. Instead of pouring concrete and bringing heavy machinery into a sensitive area, just drop some (already dead) ash trees to use as supports. For the planks, use some plantation trees (in this case European Larch, which is highly resistant to rot while being one of the world's strongest soft-woods) milled by community sawmill operators, which in turn kept the project as local as possible.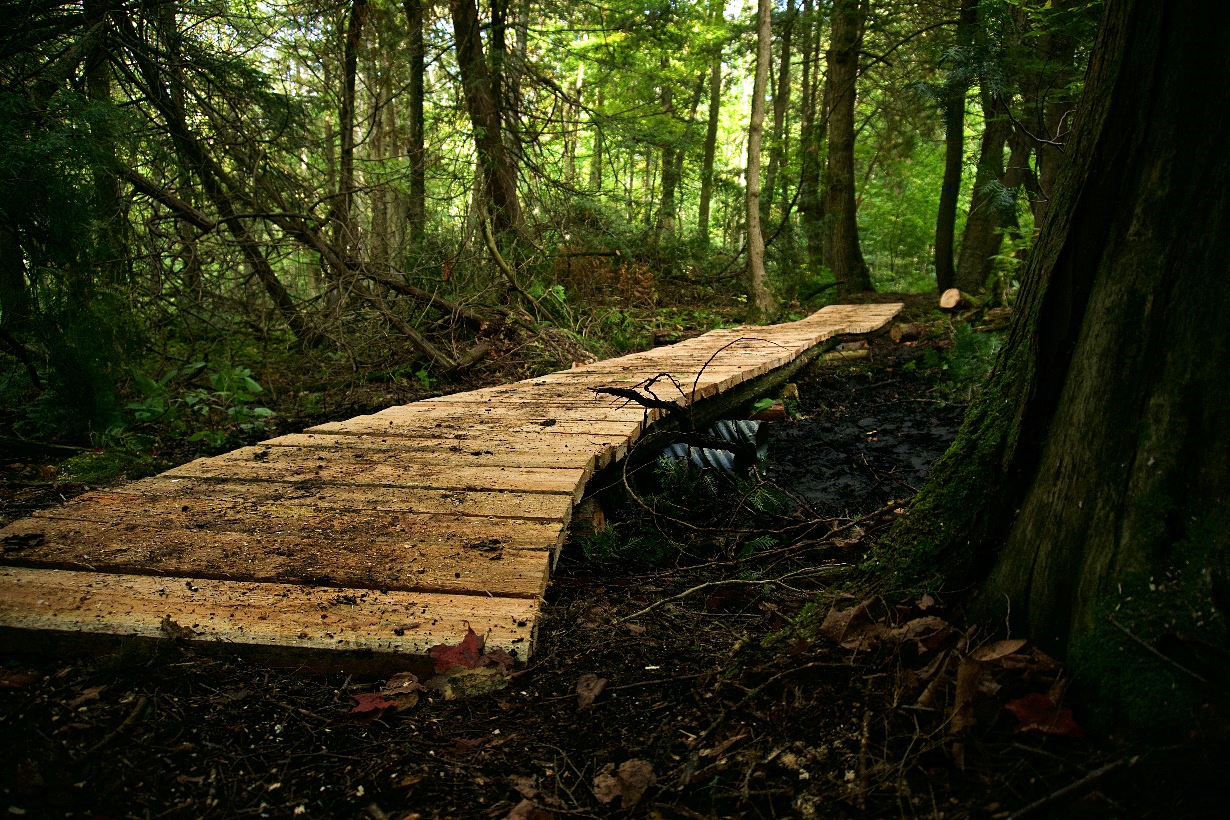 This has been an awesome project to be a part of and when it opens next spring, I'm sure the public is going to love taking a hike on this stunning trail. A great place for people to understand the rich biodiversity in their own county and absorb the beauty of Canadian nature in its purest form. I know that I'll be making a trip back here to enjoy this trail next summer!
After a few more trail and signage improvements, Bannockburn County Forest will officially be opening to the public in May 2020, just in time for the spring wildflowers. Stay tuned for more information!
 The Canadian Conservation Corps (CCC) is now accepting applications from youth aged 18-30. As part of the program, participants will travel across Canada for wilderness training, enjoy conservation field experiences, and develop service projects. The program is presented by the Canadian Wildlife Federation with the support of the Government of Canada through the Canada Service Corps. For more information or to apply, visit CanadianConservationCorps.ca.