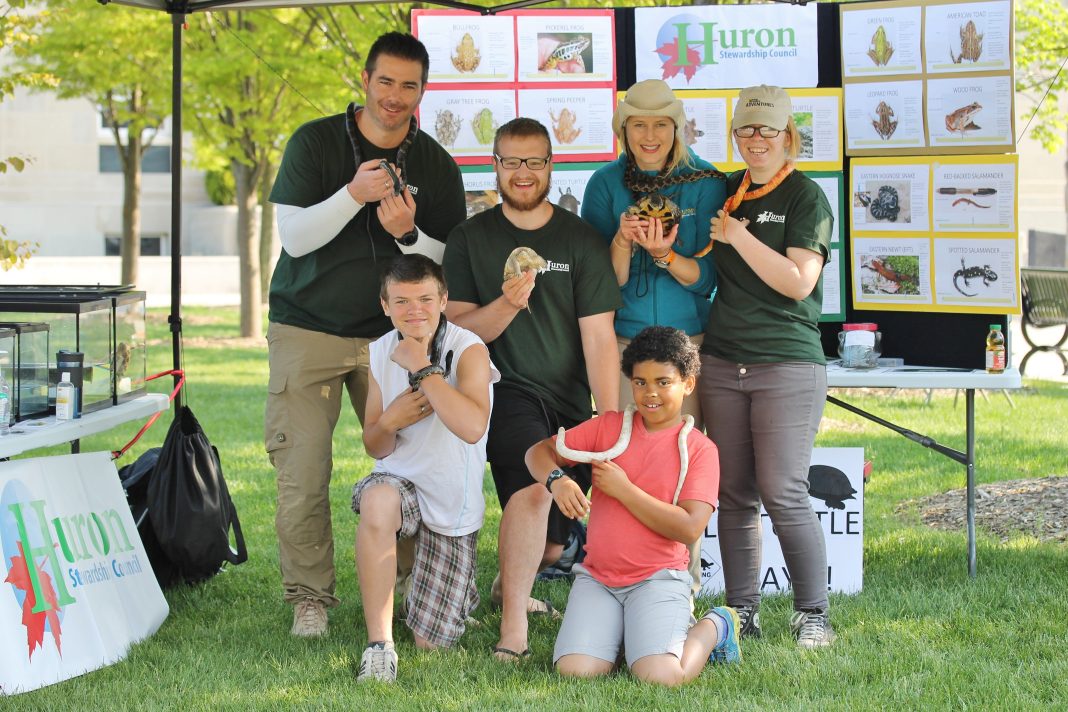 In honour of World Turtle Day, the Huron Stewardship Council staff organized a fundraiser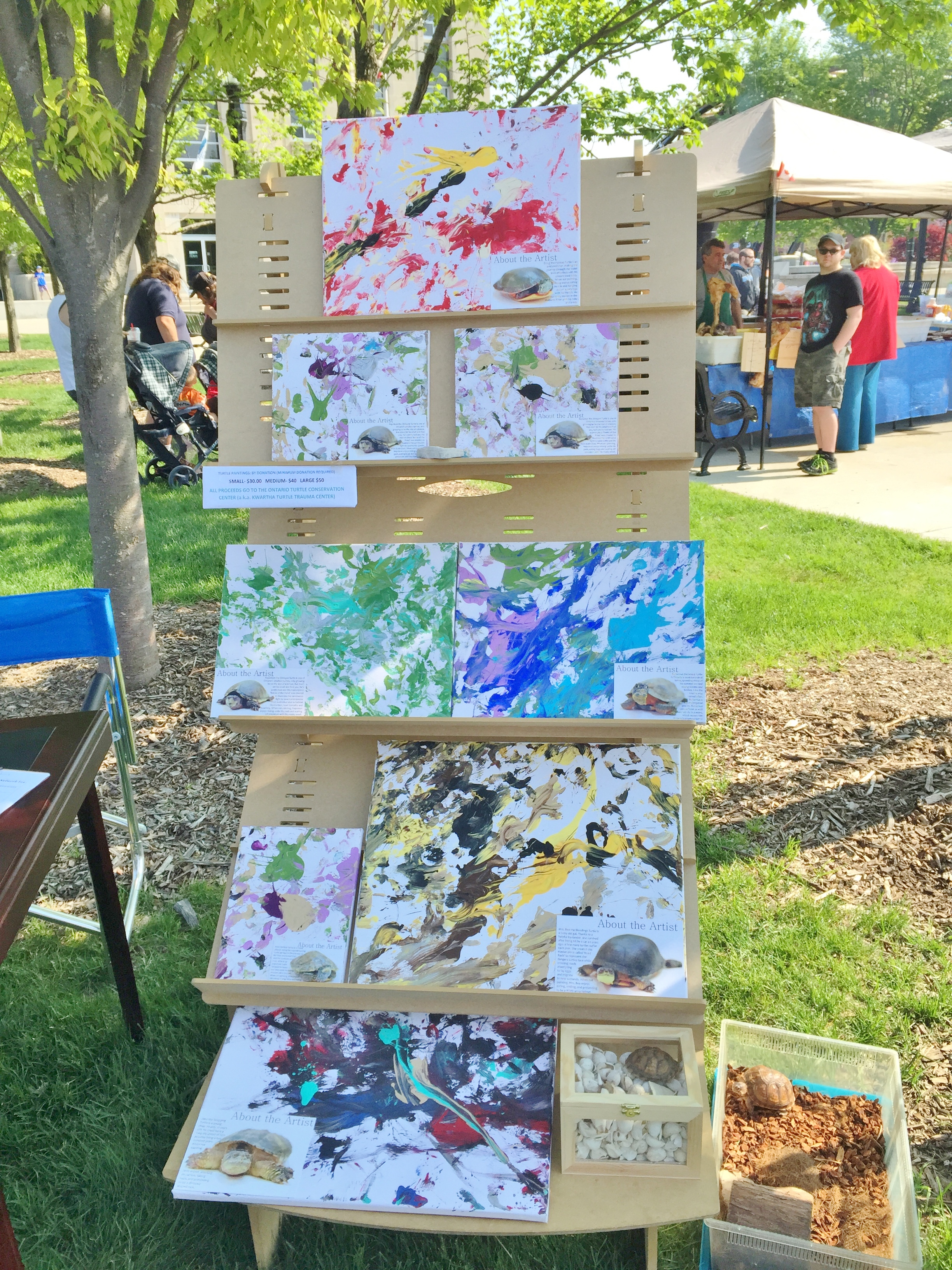 the May long weekend to raise funds for the Ontario Turtle Conservation Center and to raise awareness about turtles on the road this time of the year. Our booth at the Goderich Square featured live native turtles and snakes, and original turtle paintings (created by some of Ontario's turtles!). We spoke to thousands of people over the course of two days, and handed out turtle crossing cards (a Cole's Notes version of how to help a turtle cross the road). People visiting us had the opportunity to hold a reptile and learn why turtles are one of the most endangered groups of animals on the planet.
It's hard for me to imagine someone not liking turtles. They're slow, unassuming, and adorable. Nothing says 'hard body with a soft heart' like a turtle! Turtles face many threats, such as being hit by cars, loss of habitat, poaching, pollution…..the list goes on. Most turtles die young (99% will die before becoming parents themselves), and they are slow to reach maturity – some will not start laying eggs until they are in their 20's. Turtles need our help! And they need it now.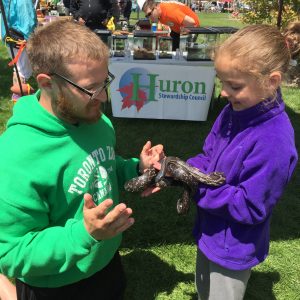 World Turtle Day, which is May 23rd each year, brings attention to, and increases knowledge of and respect for, turtles and tortoises. It is also a day to encourage human action to help turtles and tortoises survive and thrive. Turtles are important animals in the environment. Turtles help to control aquatic vegetation and serve as scavengers and seed dispersers. This means they help clean our creeks and wetlands by eating dead and decaying plants and animals, and spread seeds when they move to new areas. Turtles are also food for other animals. The planet needs turtles.
Globally, turtle numbers are going down. Ontario has 8 turtle species, of which 7 are 'Species at Risk'. Three of those 7 are listed as 'Endangered'. One of the main reasons for turtle death in Ontario is road mortality (death by car). Sometimes turtles are hit on the road by accident. Scientists have done studies that show that some people intentionally swerve to hit them on the roads, a cruel pastime called 'turtle popping'. Many turtles are struck by cars when crossing the road trying to find a place to lay their eggs, or moving to a new pond.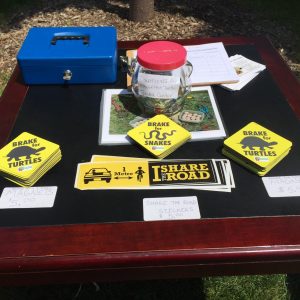 The Ontario Turtle Conservation Center (OTTC), home of the Kawartha Turtle Trauma Center, is currently Ontario's only hospital dedicated solely to turtles. Last year alone they admitted over 500 turtles hit by cars and released over a thousand hatchlings back into the wild, many of the baby turtles were from eggs harvested from females that had been hit and killed by cars. The importance of the work they do cannot be overstated. As a non-profit, non-government subsidized facility, the burden of all operating and staff costs are covered by donations. Without donations, the OTCC can't save as many turtles.
Over two days, the Huron Stewardship Council staff raised almost $1000 for the Ontario Turtle Conservation Center. This money will hopefully allow them to admit a few more turtles this year and cover the cost of surgery and rehabilitation. However, reptiles heal slowly and most of the turtles admitted to OTTC require long term care, some requiring rehabilitation lasting a year or more. The financial burden of operating a facility of this caliber must be taxing. They need as much help as the turtles themselves. For without hospitals to save turtles, we'll see more turtles disappear from the environment.
If you would like to donate to the OTTC and help save a turtle's life, please donate online at http://kawarthaturtle.org/blog/get-involved/donate/
Sign up to be a volunteer turtle driver for OTCC. Visit their website at http://kawarthaturtle.org/blog/get-involved/volunteer/
If you would like an original turtle painting, contact me! mullenjory@gmail.com
Happy Turtle-ing!