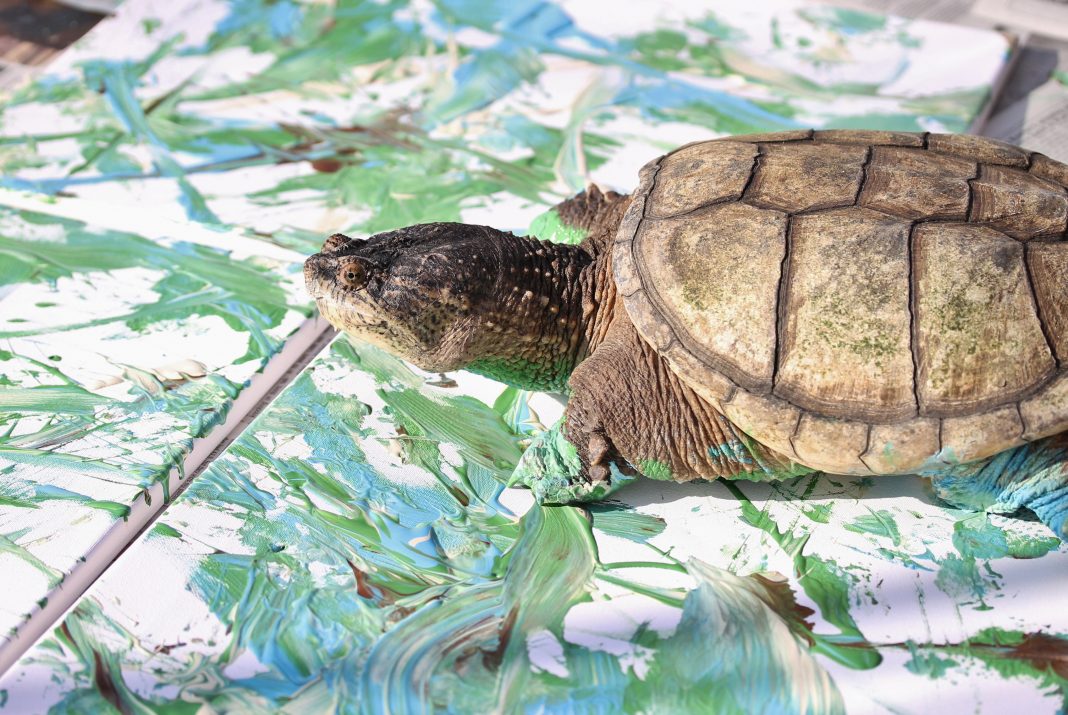 There is a new art exhibit in town!
Turtles and snakes have created paintings to share with and inspire humans in Goderich, Ontario. The special exhibit can be found at the Goderich Co-op Gallery until the end of January. Several reptilian artists contributed to this art exhibit.  Each painting is a unique creation, painted by turtles and snakes that call Ontario home. The artists created these paintings with inspiration from nature, and the troubles of life as a reptile.
Why the art exhibit?
The Huron Stewardship Council is working hard to conserve local reptiles.  Each year, dozens of turtles are hit on the road by cars. Sometimes, injured turtles can be saved. The proceeds from the sale of these paintings will go toward the rehabilitation of injured turtles in Huron County as well as projects and programs to protect species from extinction in Huron County and Ontario.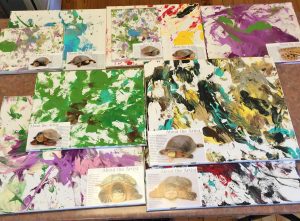 Reptiles are one of the most threatened groups of animals on the planet.  In Ontario, 7 of 8 turtle species and 9 of 17 snake species are at risk of extinction, and 2 reptiles have already been listed as extinct.
Where are the reptile artists from?
All animal painters are from Scales Nature Park in Orillia. This means that these animals are almost always born in captivity and all are comfortable being handled by thousands of visitors each year.
Do the reptiles enjoy creating masterpieces for humans to enjoy?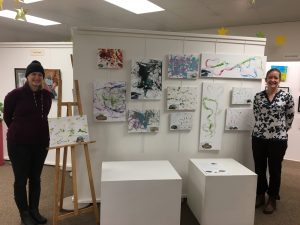 Painting is a very safe pastime for the turtles. All paint used is non-toxic kid's paint that washes off very easily. Each turtle or snake is allocated 4 paintings each per session.  If they do not complete their paintings in a 5 minute window they are thoroughly washed off with a soft-bristled toothbrush and retired for the day back to their pools or terrariums. The turtles always get special treats after a painting session, which they gobble down ferociously (turtles love to eat!). The human in charge of curating the art and talent is a reptile biologist, animal activist, and former Animal Care Manager of Scales Nature Park. The humans behind this project ensure that the animals are happy and safe; animal welfare is the number one priority.
How do the funds help injured reptiles?
These artists raised almost $4000 for turtle rehabilitation in 2016.  Each painting has a unique conservation message illustrating the danger reptiles are in, as well as their current conservation status.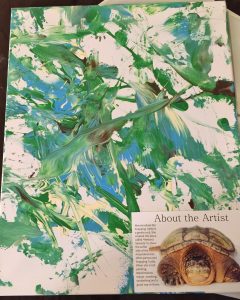 Money raised from the sale of these paintings will go directly toward supporting turtle rehabilitation in Huron County. Some turtles will be rehabilitated locally, while others will require the long journey to the Ontario Turtle Conservation Center (Canada's only turtle hospital) for more extensive care. Veterinary bills, medical supplies, and fuel are costly to us, so please support your local wildlife and buy some reptile art!
The Goderich Co-op Gallery is open from 10:00 am until 4:00 pm Wednesday-Saturday.