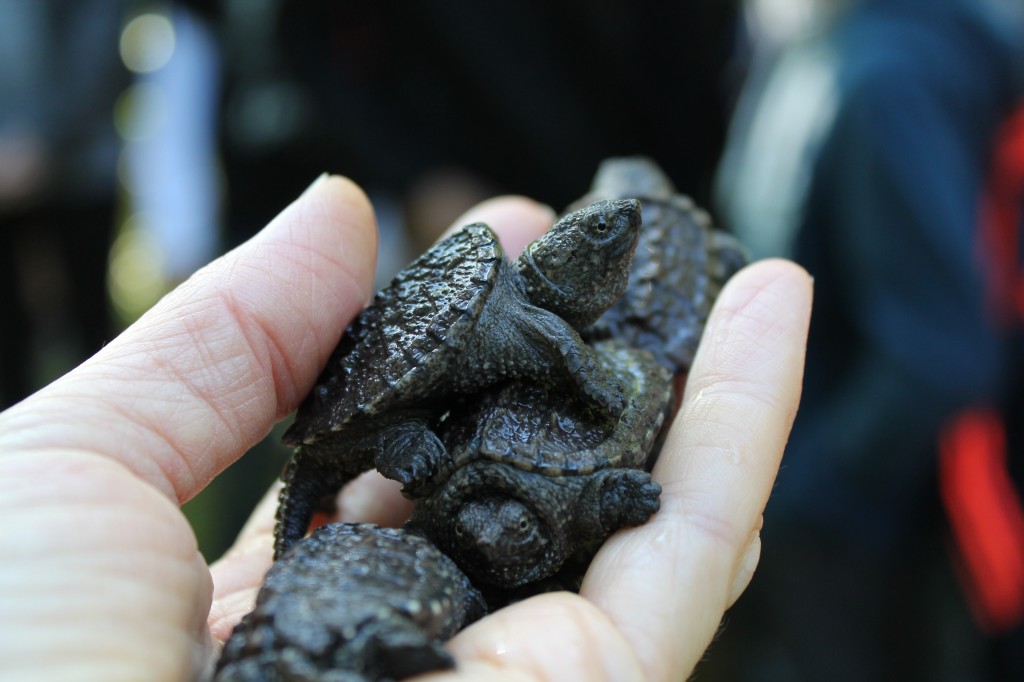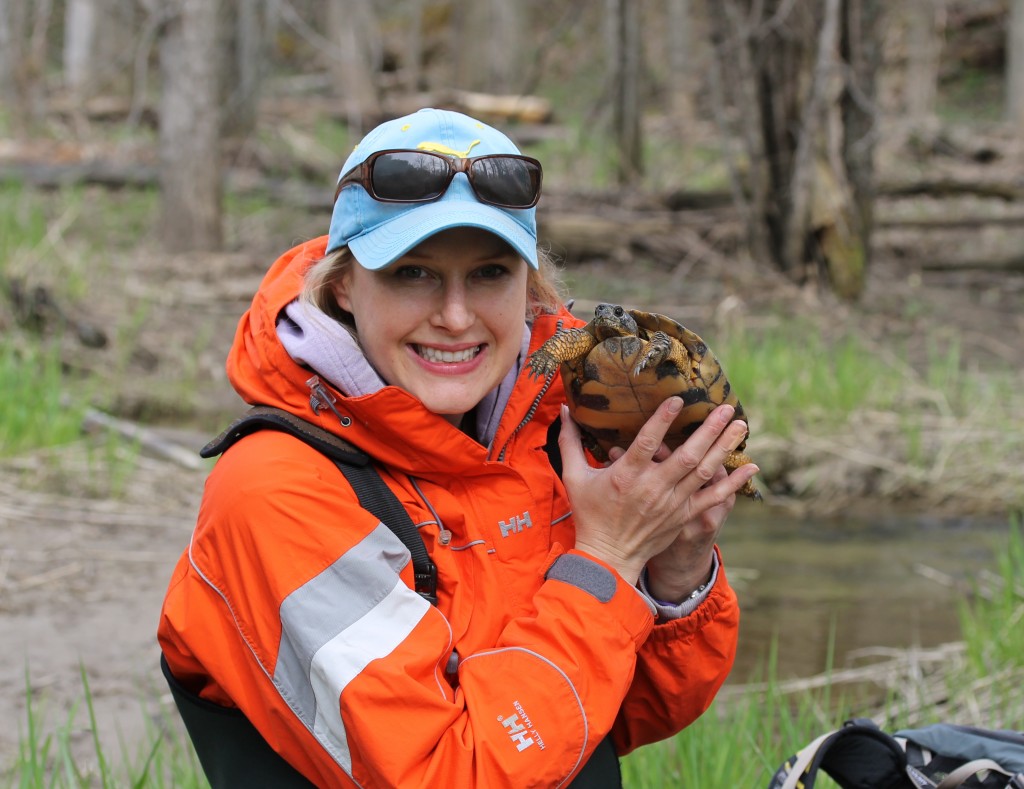 My name is Jory and I'm the lead reptile Species at Risk Technician for the Huron Stewardship Council. The spring is a busy time for many different animals, especially reptiles as they are emerging from hibernation, fattening up, and mating. This is an especially vulnerable time for turtles. In the spring, female turtles leave the safety of ponds, lakes, streams, and rivers to find a suitable place to lay their eggs. In the process, these turtles can cross dozens of roads. Many of them are hit by cars, either accidentally or intentionally.
Road mortality is one of the leading causes of turtle population decline and is one of the reasons why 7 of our 8 turtle species in Ontario are listed as species at risk. Because turtles have a high hatchling and juvenile mortality rate, and take a long time to reach sexual maturity, their populations are vulnerable to local extinctions, called extirpation.  It only takes a few breeding adults to be removed from a population each year for this to happen.
SECOND CHANCE AT LIFE
In June of this year I received a call from a concerned teacher in Wingham, Ontario, who had found a large snapping turtle hit on the road on her way to school. Like many people who see wildlife casualties on the road, she wasn't sure how she could help. So she called us! She placed the turtle in a secure plastic bin and took it with her to school. We picked up the turtle with the intent to take it to a turtle hospital where she could receive proper treatment, but unfortunately, she was not a candidate for rehabilitation and needed to be humanely euthanized. Like many female turtles that are hit on the road, she was full of eggs.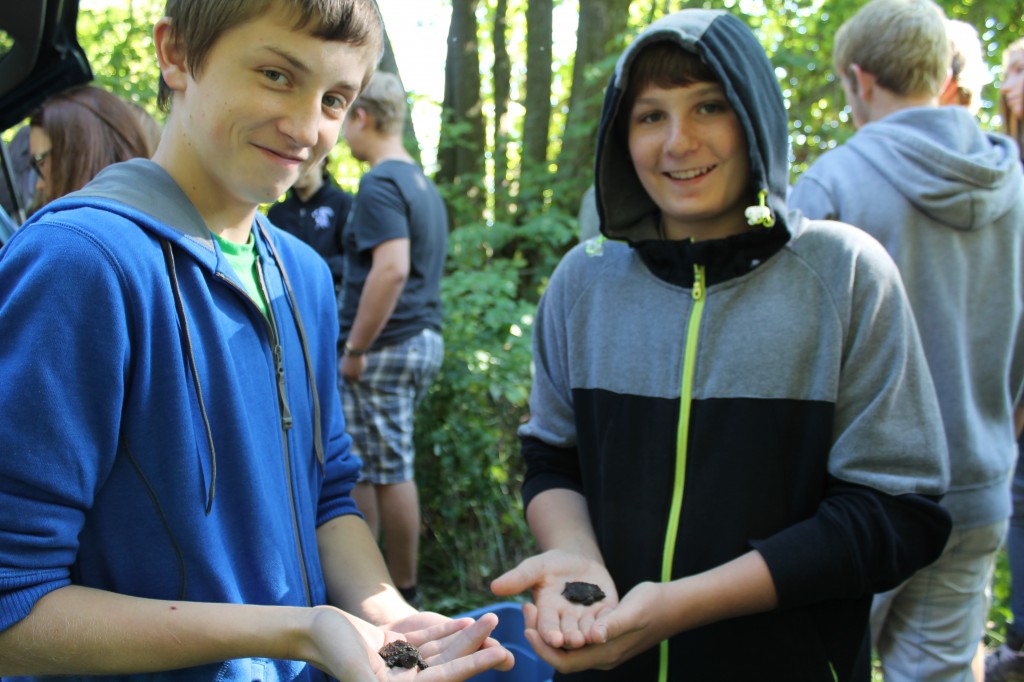 So we stepped into action! As snapping turtles are a species at risk, we knew that each egg inside her was hope for the future of the snapping turtle population in Ontario. Using scalpel blades from my medical kit and pliers from a local farmer, we carefully cut her open and extracted 30 perfect eggs. They were incubated for two months and of those 30 eggs, 22 hatched.
We thought this was the perfect opportunity to turn this tragedy into a positive learning experience. So we invited our turtle hero teacher and her class to release the baby turtles for us. After a talk on reptiles at risk in Ontario, each pair of students were given a baby snapping turtle to release in a well vegetated, slow moving spot along the Maitland River. It was a rewarding experience to see how excited they were to be actively involved in helping save a species at risk from extinction.
If you see an uninjured turtle on the road, please help it across the road IN THE DIRECTION that it was heading. If you find an injured turtle, wildlife rehabilitators may be able to save her as well as the eggs inside of her. Saving the breeding female turtles will help ensure that their population numbers remain stable for future generations.
If you see an injured turtle on the road:
Carefully place the injured turtle in a box or well-ventilated plastic container with a secure lid (turtles can climb!)
Most turtles can be picked up carefully with two hands. When handling snapping turtles keep a safe distance from their head as they will snap at you if they feel threatened. You may want to use a shovel or board to lift the turtle.
Note the location (road and major intersections) where the turtle was found to ensure it can be released according to provincial regulations.
Do not transport turtles in water. Do not offer the turtle anything to eat.
There are several wildlife hospitals in Ontario dedicated exclusively to helping turtles:
Salthaven Wildlife Rehabilitation Center–  PO Box 601, Mt Brydges, ON, N0L1W0:   519-264-2440
Turtle Haven- 114 Mansion St, Kitchener, ON, N2H 2J9:  519-745-4334
Georgian Bay Turtle Hospital- 82 Line 15 South, RR1, Oro-Medonte, ON, L3V6H1:   705-327-2808
Kawartha Turtle Trauma Center– 1434 Chemong Rd #4, Peterborough, ON, K9J6X2:   705-741-5000
Toronto Wildlife Centre– 60 Carl Hall Rd, Toronto, ON, M3K2C1:   416-631-0662
Volunteer couriers may be able to drive the turtle to a rehabilitation center if you cannot.  Please call first.
Even if the turtle cannot be saved, wildlife rehabilitation staff may be able to save the eggs inside her!
If the turtle is NOT injured: please help it across the road. Do not take wild turtles home as pets, it is against the law.
You can be a turtle hero too!